New!
Quick Links
Award Winning Oven Meals
Irish Produce
Kelly's White Puddings
Clonakilty Black or White Puddings
Irish Butter
Erin Sauces
Galtee Cheese
Quality Products

Lords of Middleton is a member of the Guild of Q Butchers, which means that you, the customer, can be confident that the meat you buy from us is properly stored, displayed and handled prior to purchase.
All members of the Guild of Q Butchers are committed to maintaining and promoting the fine traditions of top class butchery and have to pass regular and rigorous inspections of their premises, working practices and hygiene standards to qualify for Q Butcher Status. So you can be sure that your Guild of Q Butcher really is one of Britain's best.
Craft Butchers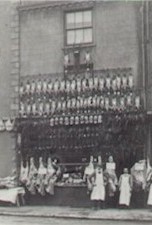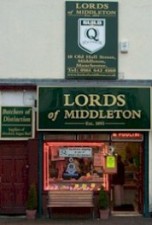 Lords of Middleton is first and foremost about quality. The fourth generation of craft butchers, preparing the finest quality traditional cuts, as well as new celeberity chef cuts, of Aberdeen Angus beef, Scottish lamb and Scottish pork.
At Lords of Middleton, we pride ourselves on selling the finest quality meat you can buy, butchered to the highest standards, but sold at realistic northern prices.
Our Friends

Rick Stein OBE is the first TV chef everyone thinks of when it comes to seafood. But with his BBC series Food Heroes, Rick has shown that he's equally passionate about the best of British produce whatever its provenance. In his most recent BBC series French Odyssey, he also revealed a passion for French food. Rick featured Lords of Middleton as one of his Food Heroes.

Gino D'Acampo caught the cooking bug from his grandfather (a head chef in Naples) and entered the Luigi de Medici Catering College at the age of 15, where each summer he was sent to different kitchens across Europe to gain experience. He has now forged a successful career in TV and featured Lords of Middleton in his ITV series Chef vs. Britain.

Clarissa Dickson-Wright rode into fame in the sidecar of Jennifer Paterson's motorcycle in the BBC series Two Fat Ladies and she was often seen as the slightly saner sidekick. However, she is also one of only two women in England to have become a guild butcher. She featured Lords of Middleton in her book Sunday Roast.

Antony Worrall Thompson is a restaurateur and TV chef and presented the BBC series Saturday Kitchen. He was educated at a Canterbury public school and later he studied hotel and catering management before taking his first catering job in Essex. Antony has devised the AWT Burger, a special beef burger only available from your Q butcher.

Paul Scholes has long been a huge favourite of the Manchester United fans and has spent his entire career at Old Trafford. He was a part of the impressive United Youth Team of the early 1990s alongside the likes of Gary Neville and David Beckham. Paul spent his early years in Middleton and has given his name to the Scholes Pork Sizzler, one of our favourite sausages.
Ordering Online
Browse around our online shop and fill your basket with our high class products. See our How To Order page for information on how to order and for delivery details. If in doubt you can ring us on the number below, email us or write to us.
18 Old Hall Street
Middleton
Manchester
M24 1AN
Tel: 0161 643 4160
Email: sales@lordsofmiddleton.co.uk